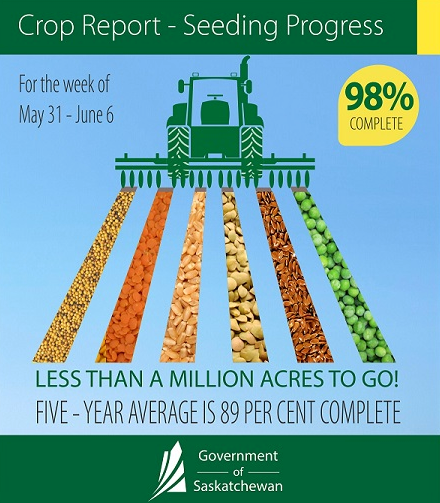 The latest crop report says seeding is essentially complete across Saskatchewan at 98 per-cent.
The five year average is 89 per-cent for this time of year.
Topsoil moisture is rated eight per-cent surplus, 81 per-cent adequate, nine per-cent short and two per-cent very short.
The crop report says there are areas, particularly in the northern grainbelt, where moisture is needed to help crop establishment and hay and pasture growth.
A week of warm weather has resulted in excellent crop growth.
The majority of fall rye and winter wheat is in the shot-blade to heading stage, sprinjg cereals are in the emergence to tillering stages.
There are reports of flea beetles and cutworms causing crop damage.
Windy conditions have hampered weed control operations in many areas of the province.