Gordie Howe has died. He was 88.
Howe died surrounded by family at his son Murray's house in Ohio, just before 8 a.m. ET Friday morning, a source close to the family confirmed.
Known as Mr. Hockey, Howe was inducted into the NHL Hall of Fame in 1972.
Over 26 seasons in the NHL and six more in the WHA he won the Stanley Cup with the Detroit Red Wings four times, won six Hart Trophies as the league's most valuable player and six Art Ross Trophies as the leading scorer.
In 2014, Howe suffered a significant stroke while visiting his daughter in Lubbock, Texas.
Howe grew up in Floral, Saskatchewan.
He was the most dominant hockey player of his era.
From 1946-71, Howe played right wing for the Detroit Red Wings, setting numerous NHL records and playing on four Stanley Cup-winning teams.
He also played in the World Hockey Association, on the same team with sons Mark and Marty, for six seasons before returning to the NHL with the Hartford Whalers in 1979-80, his final season.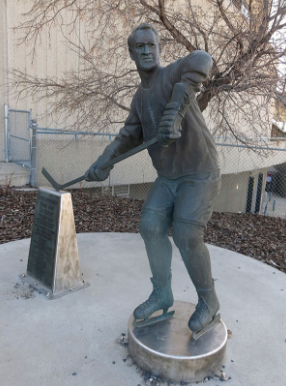 A statue of Gordie Howe stands in Saskatoon.
The city relocated a bronze statue of the NHL Hall of Famer from downtown to SaskTel Centre.
There's also Gordie Howe Park and Gordie Howe Kinsmen Arena in Saskatoon.