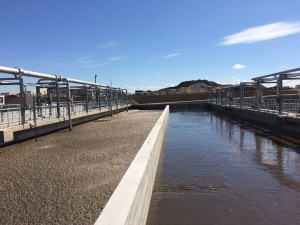 Upgrades to the City of Regina's Wastewater Treatment Plant are now more than 90 percent complete.
The upgrades include include lagoon storage for excess water flowing to the plant during heavy rains, and the reduction of chemicals used to treat the water.
John Elford, Senior Vice President of Epcor Water Canada says there will be a noticeable difference in the water being released into Wascana Creek.
"You can test and determine there is lower levels of phosphorus, nitrogen, ammonia and bacteria being released in the effluent into Wascana Creek, which is going to significantly reduce the impact that this wastewater treatment plant has had on that creek over the past few years."
Right now, 75 percent of Regina's wastewater is being fed through the new system.
The rest of the project should be complete by the end of 2016.