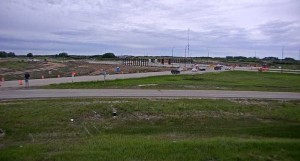 Those wanting to see progress of construction on the Regina bypass can do so as cameras have been installed at three locations.
The cameras are located at Highways 1 and 46 at Balgonie;Highways 1 and 48 at White City; and Tower Road near Regina city limits.
Once fully open to motorists, the Bypass will improve traffic safety, reduce vehicle congestion in and around Regina, and support Saskatchewan's export-based economy.
The Bypass includes 12 overpasses; 40 kilometres of new four-lane highway; 20 kilometres of resurfaced four-lane highway;55 kilometres of new service roads; and Twinning of about five kilometres of Highway 6.
The full Regina Bypass will be open to traffic in late 2019.