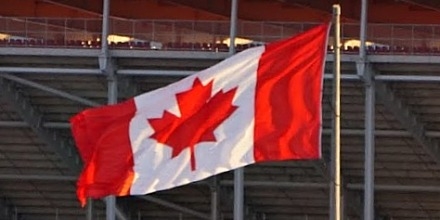 Ailing Liberal M-P Mauril Belanger's private member's bill to have "O Canada" become more gender neutral has passed its third and final reading in the House of Commons.
The bill would change the second line of the anthem from "true patriot love, in all thy sons command" to "in all of us command."
The legislation still requires the approval of the Senate.
This means the ailing M-P — who was diagnosed last November with Lou Gehrig's disease and was in the Commons for the vote — may not live to see it become law.
After the bill passed by a margin of 225-to-74, the entire House broke into an impromptu rendition of "O Canada," as well as a rousing standing ovation.
Most Conservatives opposed the bill on the grounds that important pieces of the national heritage shouldn't be trifled with.
They argued that any such change should be made with the broad consent of Canadians.
However, a number of Tory M-P's, including Gerry Ritz, Peter Kent, Michelle Rempel and Candice Bergen voted to support the legislation.
Prime Minister Justin Trudeau has made gender inclusivity a focus since he was elected last October and named an equal number of men and women to his 30-member cabinet.
It was the first time gender parity had been achieved by Canada's team of ministers.
(The Canadian Press)