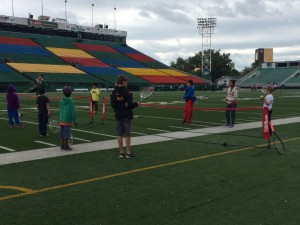 Elementary school students had the chance to learn more about Mosaic Stadium while playing sports this afternoon.
It was part of the Saskatchewan Sports Hall of Fame School Program.
Twyla West with the Catholic School Division says they thought it was a good way for the kids to learn about the stadium's history and get some much needed time outdoors.
"They've really matched all the activities that they're doing with things the kids are learning in the classroom anyways."
Students from both the Catholic and Public School divisions took part in the five-week long program as part of the Mosaic Stadium Farewell Season.