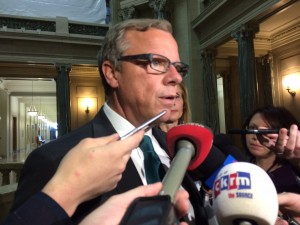 Premier Brad Wall says his main concern with SaskTel is maintaining jobs for Saskatchewan people.Following the release of a
risk assessment
done on the Crown corporation, the premier says he would like to see SaskTel remain a strong source of revenue to the province.
Wall calls the potential sale of SaskTel 'off the table' — at least for now.
"If there was ever to be some offer that came to SaskTel that — for example, preserved jobs, that provided a good return, that provided better coverage across Saskatchewan, I would not have the authority based on our campaign promise to say yes to that."
He says the government is now waiting on SaskTel's board to make decisions on the company's future based on the risk assessment.
The Saskatchewan NDP's Warren McCall says his party is concerned the government has plans to sell off the Crown corporation.
"The biggest risk for a corporation like SaskTel is a third-term cash grab to right-wing government."
Wall says if there was ever a financial offer from a large carrier to purchase SaskTel, the decision would lie with Saskatchewan residents in the form of a province-wide referendum.