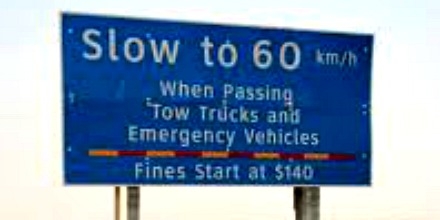 This week is about raising awareness on the importance of obeying speed laws and more specifically when passing first responders for safety's sake.
RCMP and the Ministry of Highways are teaming up for a safe driving campaign.
Drivers in Saskatchewan must slow to 60 km/h in both directions on a 2-lane highway and both lanes travelling the same direction on 4-lane highways when passing vehicles with their lights activated.
That includes emergency vehicles, tow trucks and Ministry of Highways municipal equipment.
RCMP Staff Sgt. Pete Garvey says the goal is to prevent those close calls or disastrous situations.
Last year, during two annual traffic safety weeks, 478 speeders were ticketed, with fines starting at 210-dollars.