I want to start by thanking the organizing committee of the Pilot Butte Rodeo for allowing 620 CKRM to be a part of the fun. What an amazing weekend, and what a party on Saturday night!
It really is quite impressive for a small community to bring in a band like "The Road Hammers", and to see the turnout on Saturday was a great feeling! I can honestly say The Hammers (Jason McCoy, Clayton Bellamy, and Chris Byrne) were very impressed by the energy in the rink. In fact, they were loving it so much they added to their encore. I was also impressed by the time they took meet with all the fans after the show. Very cool!
I took a few videos from the stage. Check 'em out!
Look at this crowd!
AND the signature song "MUD"!
Expect a BIG announcement coming soon for next year's Pilot Butte Rodeo! It's their 25th anniversary and big plans are in the works. See you next year!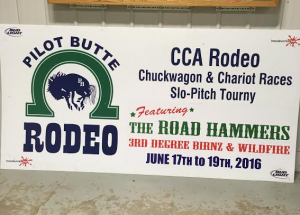 Thanks,
Boz
@BaslerRM on Twitter