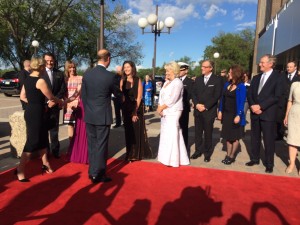 The Earl and Countess of Wessex had a busy day in Regina on Wednesday celebrating the 50th anniversary of the Globe Theatre.
After arriving in the Queen City, the couple attended a gala at the Conexus Arts Centre, where Prince Edward delivered His Royal Address.
During the Prince's speech, he took the time to thank everyone involved in the organization over the last 50 years.
"Thank you very much indeed for all that you have done for the Globe Theatre, and for Regina, and for the arts in Canada."
Prince Edward is the royal patron of the Globe theatre and has been involved in the arts his entire life.
Ruth Smillie, Globe Theatre's Artistic Director says it means a great deal to the organization to have His Highness attend the celebration.
"It shows the regard and respect that the royal family has for the arts, and in Prince Edward's case — for the theatre."
On Thursday, the couple will visit the RCMP Heritage Centre and then the Government House for a walkabout open to the public at 2 p.m.