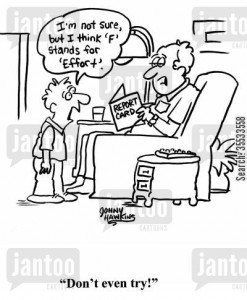 I remember this time of the year…. oh so well…..I laughed / I cried / I tried to hide my report card.
This week the kids are bringing home their report cards.  Now back when we were kids this was a time of nerves, heavy sweating and in some cases sheer panic.  Of course back then it was still cool to leave a kid back if they weren't doing the work up to snuff.  Dealing with your parents over a bad report card was one thing.  Having to deal with your parents over repeating a year would have been entirely different.  It happened to me and I did get my share of bad report cards.  It seems I just didn't fit into the school's idea of a model student very well.  The difference was, back then the parents fully understood where their child stood by reading the report card.  The marks were right there along with some pretty frank comments from teachers.  Your child doesn't apply himself, he talks too much and can be disruptive in class.  Those were the usual suspects scrawled all over my report cards in a nice big fat red marker.  In fact I'm pretty sure I had a couple of teachers who didn't hold me back just because they didn't want to have to deal with me for another year.  Which is why you always had to be careful of teachers who were retiring, because they didn't care, they weren't going to be back.
Flash forward to today where the politically correct doublespeak is all the rage. "Enhancing independent work", "working toward creative solutions", "works well at enhancing independent work through creative solutions", huh ????
Back home in Broadview, the teachers were strait up and told it like it was…."he has no attention span…"he's disorganized" …"his thoughts were elsewhere and not school". They knew it… I knew it… my parents new it!
This day and age when the education system doesn't want to leave any children scarred so no one is held back and nothing really negative is ever reported on a report card.  It's all "seems to be doing well", "tries hard" and "has a sound work ethic". The problem is cutting through the red tape language to get to the core of the child.  To really identify strengths and weaknesses.  Some of us actually found our calling thanks to those old "tell it like it is" report cards of the past.  14 years of report cards telling my parents I should shut up and that I talk too much was turned into a 30 year  career on the radio.  What's wrong with informing a parent that their kid talks too much and has been caught lying about their homework and could use a good talking to about respecting others…..But I guess straight talk like that, is a little too old school for today's schools.  Far better we just move Johnny along, tell him and his parents he's an okay kid and let the next guy deal with him. Right until the day he gets out of school and hits the workplace where he's going to find someone, who'll give him some straight talk, even if he's not ready for it.
I'm happy I went to school when I did!