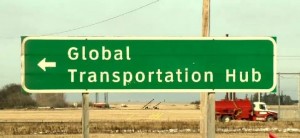 A report from the provincial auditor is set to be released on Thursday.
Saskatchewan's auditor Judy Ferguson will be releasing the findings on the land acquisition processes for the Global Transportation Hub west of Regina.
The report will also include land purchased by the Ministry of Highways for the Regina Bypass Project.
Premier Brad Wall had asked the auditor to look into the details to make sure proper procedures were followed after the NDP accused the government of dishonest dealings around the purchase.