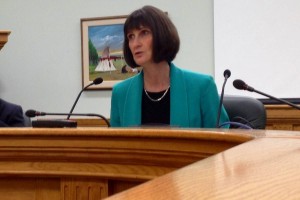 Provincial Auditor Judy Ferguson tabled her special report on the controversial Global Transportation Hub land acquisition.
Ferguson found that in the acquisition of there was no evidence of conflicts of interest, or indications of fraud or wrongdoing by
the GTH management or Board of Directors.
Rather, the Provincial Auditor found a series of situations and events contributed to delays in buying land that the GTH viewed as key to its commercial success during a time of rapidly escalating land prices.
However the Office found not enough was done to reduce taxpayers' exposure to increases in land values.
"Our Office recommends that the Government explore alternate approaches to optimize the timing of land acquisitions for major public improvements like the Regina Bypass Project," said Ferguson. "In addition, it must balance keeping the public informed, managing public resources prudently, and providing landowners with amounts reflecting fair value."