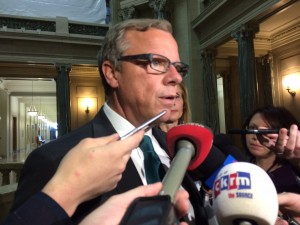 Saskatchewan's auditor says the province significantly overpaid for land for a transportation hub and highway bypass.
Auditor Judy Ferguson did audits of the Global Transportation Hub's process to buy land from the private sector and the Ministry of Highways, which was buying land for a bypass around Regina.
Ferguson says not enough was done to buy the land in a "financially responsible way."
The auditor says the Global Transportation Hub didn't have effective processes to buy land, didn't prepare business cases for major land deals or keep documentation of key aspects of the negotiations.
Her report also notes that Highways officials didn't know that the transportation hub was trying to buy some of the same land as the ministry.
Premier Brad Wall says there wasn't proper co-ordination and the government ending up paying too much, but he also says the money can be recouped when the transportation hub land is sold for businesses. Wall says they accept responsibility for making a mistake and will learn from it.
The NDP have called for a judicial inquiry.