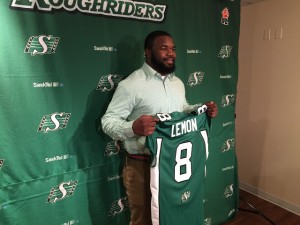 Shawn Lemon's time in Riderville was a short one.
After voicing displeasure over a lack of playing time, the Saskatchewan Roughriders traded the defensive lineman, acquired as a free agent from Ottawa, to the Toronto Argonauts Saturday afternoon for offensive lineman Matt Sewell and quarterback Mitchell Gale.
Sewell  is in his third CFL season after originally being selected by the Toronto Argonauts in the 1st round (8th overall) of the 2013 CFL Draft. Through two seasons the 26-year-old McMaster product has played 35 regular season games.
Gale  is a four year CFL veteran after originally joining the Argos ahead of the 2013 season. The 26-year-old Abilene Christian product has played 33 regular season games completing nine of 29 pass attempts for 100 yards and two touchdowns while adding 33 carries for 91 yards and one touchdown.
The Riders are off until Monday when they will start preparing for a contest in Edmonton against the Eskimos on Friday. That game will begin on 620 CKRM at 8 o'clock with our pre-game coverage starting at 5.