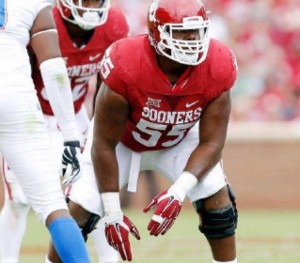 The Saskatchewan Roughriders are pleased to announce national offensive lineman Josiah St. John has officially joined the team after signing with the Club last week.
St. John (6'5 – 309 lbs.) was selected by the Green and White first overall in the 2016 CFL Draft, after spending the last three seasons at University of Oklahoma. In 2015 the Toronto, Ontario native played in seven NCAA conference games, starting four at right tackle. The 24-year-old St. John played in eight conference games in 2014 after redshirting the 2013 season. Prior to Oklahoma, St. John spent the 2012 season in Junior College with the Trinity Valley Cardinals.
News of a contract agreement first broke on Wednesday as Riders Assistant Vice President of Football Operations & Player Personnel, John Murphy revealed during a visit on the 620-CKRM SportsCage with host Rod Pedersen that a deal was imminent.
Riders Vice President of Football Operations, General Manager & Head Coach Chris Jones later confirmed the signing during a press conference following Thursday's season opening loss at Mosaic Stadium.
St. John is expected to be on the field today as the Riders return to practice in preparation for Friday's matchup in Edmonton.