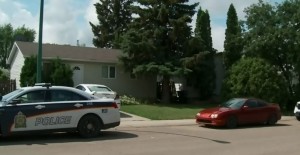 Justice officials say the teenage girl accused of killing a baby boy in Saskatoon on the weekend  had escaped custody the day before the death.
Ministry spokesman Drew Wilby says the 16-year-old left an open- custody youth facility at about 1:45 a.m. on Saturday, and Saskatoon police were notified a few minutes later.
Wilby says open custody means doors cannot be locked and staff can't physically stop young offenders from leaving but if they do, they are breaking the law.
The teen was arrested Sunday morning after officers found the injured child at a home.
She is charged with second-degree murder and escaping lawful custody.
While the girl has no relation with the baby or her family, it is not known how she came to be inside the residence in Saskatoon's College Park neighbourhood.