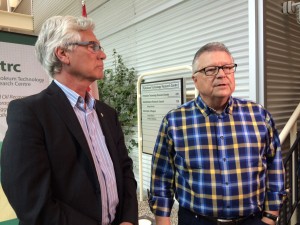 Canada's Minister of Natural Resources Jim Carr made a trip to Estevan on Wednesday to tour Boundary Dam 3.
It was Carr's first trip to the carbon capture storage facility, and Minister of Public Safety and Emergency Preparedness Ralph Goodale was on hand to show him around.
Carr says Saskatchewan was praised for the project at the Three Amigos Summit last week.
"The President of the United States, the President of Mexico and the Prime Minister of Canada singled out this technology as one of the roads to a low-carbon economy, and the leader in Canada, and really —around the world."
Carr also commented on the 21-month long review of the Energy East Pipeline by the National Energy Board. He says it's the first step into deciding whether the project is right for Canada.