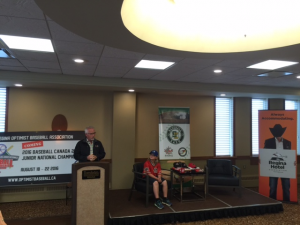 The kickoff event for the 2016 Baseball Canada Under-21 National Championship in Regina was held on Thursday.
Eight of the best teams in the country will descend on the Queen City from August 18th to 22nd for the tournament.
11-year-old Ethan Perron was a bat boy for team Quebec at the tournament last year in Regina and he says it was the most incredible experience of his young life. "it was very surprising. I thought I was going to be kind of a little thing on the side that no one paid attention too to just grab the bats. But they had me warming up, they had me giving speeches, it was pretty unbelievable."
Team Quebec presented Ethan with his own jersey and after they won the championship, sent him a package with a personalized t-shirt, a bunch of memorabilia and he even has his own championship ring.
Last year he was the lone bat boy at the tournament but this year every team will have one from Regina.