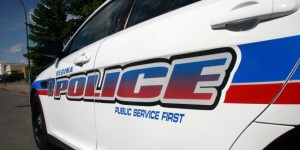 Police are search for two suspects in a robbery that occurred Thursday night at a Subway on Victoria Avenue East.
Police say two men entered the business at about 10:25 p.m., one man brandished a knife and demanded money from the employee, while the other remained situated at the door.
The employee turned over an undisclosed amount of money to the suspects, who then fled the restaurant.
Police were called immediately after the suspects fled the Subway and police conducted a search of the area with the aid of the canine unit, but they were unable to find anything.
This investigation is ongoing.