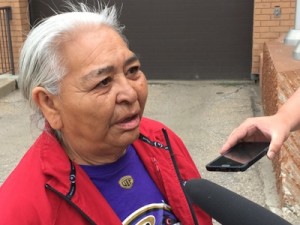 The grandmother of Nikosis Cantre, the 6 week old boy who was killed Sunday, July 3rd, wants the 16 year old accused to be tried as an adult.
Eva Meechance says the incident will always remain in her mind.
"It hurts right here in my heart, and I want her to go to jail for life, (for what) she did to my grandson. You're not supposed to do that to a baby. She should know better than that."
The 16 year old had been sentenced to 10 months open custody in December for Break and Enter with Intent, Arson Damage to Property, Assault Causing Bodily Harm, Assault with a Weapon, and Robbery with a Weapon.She was to receive 5 months of Community Supervision following the open custody sentence
.She has been remanded in custody until her next court appearance next Monday.
(CJWW)