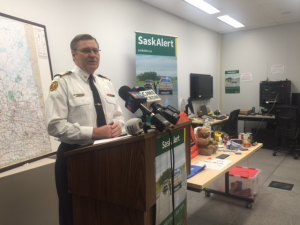 People in Saskatchewan are being warned that heavy rain possibly as much as 100 millimetres could bring flooding.
A state of emergency was already declared Sunday in Estevan when roads and basements were left under water by storm sewers unable to handle the volume of rain.
Many streets looked like rivers after at least 130 millimetres fell in Estevan in just over two hours.
Emergency management commissioner Duane McKay says officials hope the worst is over for Estevan, although the area remains under a special weather statement.
Some roads also flooded in several other communities, including Lloydminster, Yorkton and Humboldt
McKay says emergency management is watching a rainfall warning in place from Prince Albert, south to the U.S. border, and he warns communities should be prepared for flooding.
(The Canadian Press)