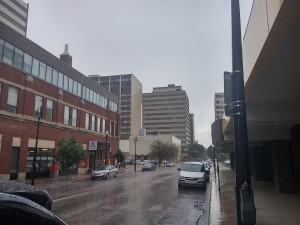 Much of Saskatchewan remains under a rainfall warning, but so far Regina has seen very little moisture.
As of 4 o'clock Monday afternon, Regina had seen just 5 millimeters of rain come down, but much more is expected.
Environment Canada says Lloydminster has received almost 90 millimeters of rain since it started falling on Sunday.
While Regina has not seen a lot of rain so far, the forecast does call for rain.
The Queen City should see just over 30 millimeters of rain with Weyburn and rain-soaked Estevan also forecast to see that much before this system moves out sometime Wednesday.
Moose Jaw is to see around 50mm.
Environment Canada adds the Saskatoon area should see the most rain with just over 80 millimeters scheduled to come down before Wednesday.