Nothing says summer like loading up all your gear and heading out into an open field and gettin' down and dirty!
Nothing says that more then the Craven Country Jamboree.
If it was held in December, there would be rain and mud.
Just seems that no matter when this event is – the weather is going to kick up a fuss.
You just can't beat being under the Saskatchewan living sky and hearing the acoustics of Mother Nature.  She's pretty amazing.
The CKRM days are spent at the Village RV studio.  You, the listener stopping off to see what we look like!  An artist or two may pop over from backstage.
We are very lucky to have a work environment like we do; roof over our head, somewhere warm that we can be.  Maybe its so stinkin' HOT that the air is on!
Its all good.
Car Camping is fun and so is Craven if you are kind of prepared.  So take some stuff along like: rubber boots, bug spray, sunscreen, lawn chair, a change of clothes, towel, pillow.
You'll get into it and regret that you didn't rough it for a night.  Remember home is just a bus ride in where you can shower up and return to the concert site!  You won't be alone.
The last night of years have been enjoyable from the back and side stage sight-lines.  And I'm thankful to have these opportunities.
Keith Urban closed out the show a couple years ago.  As you can see it was under a brilliant prairie sky.  And nothing can stop the country music fan from jamming!
Here's the 1st year I attended (in an official capacity) and it was cool to meet Big & Rich and Gretchen Wilson. yeeehaw!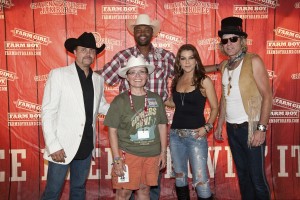 EXCITED – YES!  Not only to interview Eric Church,  BUT  to have this vantage point for the Sunday night show.  Blake Shelton couldn't make it due to commitments for The Voice.   Thanks Blake!!
Keep it right here to 620 CKRM and join us for this year's edition of the Craven Country Jamboree.  Yes, we are all getting a bit older, but it never hurts to let your hair down and P.A.R.T.Y!
Bring on the "eventing" for 2016!