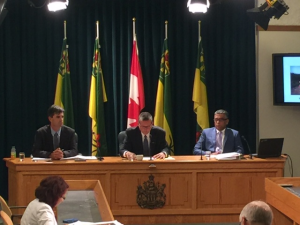 SaskPower was the latest crown to table it's annual report on Thursday.
They reported a net income of $26 million dollars and invested $1.2 billion dollars in capital projects in the last 15 months.
Mike Marsh, SaskPower President and CEO says with aging infrastructure, people can expect rate increases to continue over the next two years. "Rate increases are inevitable and I would say based on our current forecast. Next year we may be in a position to have a lower rate increase and possible not even a rate increase at all. In the year beyond that we are probably looking at something, based on our numbers today, close to that 5 per cent for 2018/19."
Already a five per cent increase has come into effect this summer and another five per cent is coming on January 1st, pending approval from the rate review panel.