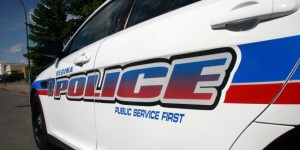 The Regina Police are investigating a robbery at a taxi cab Friday morning.
At 5:15 Am officers were dispatched to the 1800 block of Osler Street. When they arrived the met the driver of the taxi who told them the suspect stole his air compressor, attempted to assault the driver and then ran away on a bike.
The suspect is described as male, Aboriginal, approximately 18-20 years old, wearing blue jeans, a black hoodie with white or silver markings on the front, white shoes and a ball cap. The suspect also had a black backpack. The suspect was on a small grey mountain bike.
This incident is still under investigation. Anyone who has information that could assist police in this investigation is asked to contact the Regina Police Service at 306-777-6500 or call Crime Stoppers at 1-800-222-8477.