Let me start by saying this is completely opinion based, and I enjoyed EVERY act at the Craven Country Jamboree this year…
When it came to the main stage performers one artist stood out from the pack, and that was Sunday's Headliner, Eric Church. Not only does Church sound like a carbon copy of his records, but he makes sure to take the fans along for the ride. Whether it was his latest single ,"Record Year", or the title track from his debut album ,"Sinners Like Me", fans sang along word for word to every song.  In fact, a true testament to an artists success is when they play songs that were never released to radio, and get thousands of people shouting it back. That happened multiple times for Eric last night… Most notably when he played album cuts "Pledge Allegiance To The Hag" and  "These Boots".
Neat fact: Eric's debut album, "Sinners Like Me" was released 10 years ago today.
I have truly not stopped smiling today when reflecting on last night's show. There is something about being at a concert where for 90 minutes you can put all of life's trials and tribulations to the side and enjoy the show…. I certainly did that last night, and that was thanks to Eric Church!
Here's a couple of quick videos I captured.
I've also heard some very rave reviews of Chris Young's performance on Saturday night. I had to head into Regina for the Roughriders game and missed the show!! Hope he comes back soon!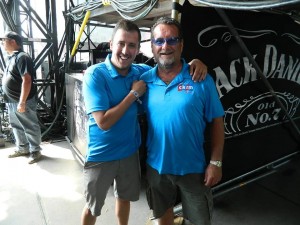 (The biggest celeb I met all weekend…. Jamie Lewis.)
Thanks,
Boz
@BaslerRM on twitter