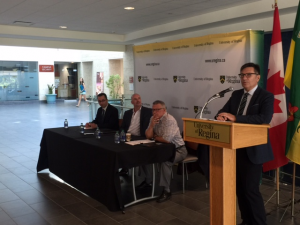 16 research projects at the University of Regina received more than $1.5 million dollars in funding from The Government of Canada on Tuesday.
The money is split between the projects and comes from the Natural Sciences and Engineering Research Council of Canada's (NSERC) flagship Discovery Grant Program.
Federal MP Ralph Goodale, Minister of Public Safety and Emergency Preparedness Canada says these types of investment are important for the country. "We need to make sure we are investing in science, that we are contributing to the brain power that will drive the country forward. That's what NSERC does on a regular basis and in the last budget we put some additional money into NSERC in fact tripled the allocation of new money."
In total NSERC received $341 million dollars from the government in the last budget.
Dr. Babak Mehran is assistant professor in the Faculty of Engineering and Applied Science at the U of R and he says traffic safety during the winter is his focus. "We have very long and severe winters in Canada so my research aims to develop some better responsive traffic management strategies to improve traffic safety and operations in winter."
In total, each project receives just over 98 thousand dollars.