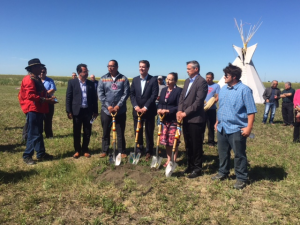 Four Horse Developments, a Sakimay First Nation owned company, announced an important ground breaking on its 260 acre commercial and industrial site on Dewdney Avenue West. The land is located within the RM of Sherwood near the Global Transportation Hub and borders on the City of Regina.
New development plans were released for the Saulteaux Crossing Business Park. It will include an ESSO gas station, a Tim Hortons and 40 acres serviced and developed for private sector commercial and light industrial land uses.
With the construction of the Regina Bypass, the Business Park is a prime location for commercial and light industrial development. The intent is to provide a development, which is viable and environmentally sustainable.
The first phase of the project is expected to be completed in December of this year.