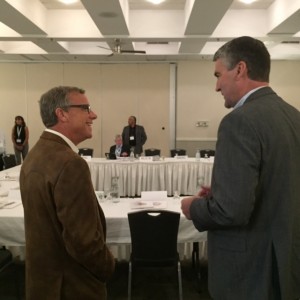 Premier Brad Wall is talking about interprovincial trade barriers, the possible national carbon tax and the terms for a national inquiry on murdered and missing indigenous women and girls with the other Premiers this week in the Yukon.
He is concerned with recent comments from the federal government that there would be a carbon tax, with possibly a cap for to ensure the province's meet a national standard.
Wall says the agreement was that there would be working groups on climate change, including one to explore the impact on the economy for a national carbon tax, with the deadline for reports in October.
He has a concern with the process and says the Prime Minister talks about collaboration and then it looks like he is acting unilaterally, before any reports come out.
Wall says Saskatchewan has a price for carbon already because it's sold through the Boundary Dam carbon capture project so there is a need for more flexibility within the provinces.
Another topic for the Premiers is how legalizing marijuana is going to play out, and how the provinces need to prepare.
Wall says his biggest concern is enforcement, and that's why there is a provincial committee looking at the issue and checking out what is happening in Colorado.
Saskatchewan has a high incidence of driving while impaired, so Wall would like more emphasis on traffic safety issues with marijuana while this legalizing process continues.