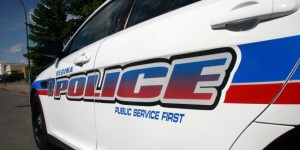 Two have been charged after a weapons offence in Regina on Thursday evening.
At 7:30 police were dispatched to the 3700 block of East Cormorant Drive after information was receuved about an attempted assault with a weapon on a man. The suspects fled in a vehicle and no one was injured in the incident.
At about 9 PM, police found the suspect vehicle and were able to stop it near 9th Avenue and Albert Street without incident.
Four people in the vehicle were taken into custody and a blunt weapon was found inside.
32-year-old Brandi Benson and 26-year-old Brazley Buffalocalf were charged and made their first court appearances on Friday.