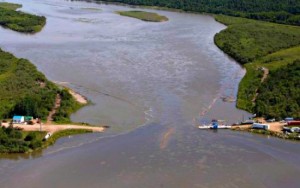 The Water Security agency says an oil spill into the North Saskatchewan River last week resulting in over 200-thousand litres of oil going into the body of water is affecting 69-thousand people.
The city of Prince Albert declared a state of emergency on Monday after shutting off its water supply intake as the contaminated water inched closer and closer to the city.
Sam Ferris with the WSA says precautionary drinking water advisories could be in place in affected communities for weeks and even months.
Lo Cheng, with the federal Environment and Climate Change Ministry, says its enforcement branch has opened an investigation into whether Husky broke any laws.
About 70,000 litres of an oil-soil mixture have been cleaned up around the source of the leak and another 118,000 litres of oily water has been skimmed from the river.