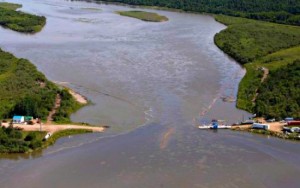 The Ministry of Health has issued a public health advisory regarding the North Saskatchewan River.
Officials are cautioning residents to limit recreational activities in the river following the spill of heavy oil from a Husky Energy Pipeline last week.
People are advised not to consume any fish caught in the river and to avoid water activities which may result in the water being ingested .
Some of the activities not recommended in the North Saskatchewan River are:
Swimming
-tubing, wakeboarding or skiing
-other forms of recreation where people come in direct contact with the water
-allowing pets or livestock in the water
-eating fish from the river
Officials say there should be no risk to residents boating and taking part in catch-and-release fishing.