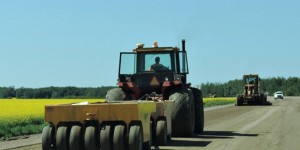 With the summer season now into full swing, the provincial department of Highways are working on several projects to make the drive to your favourite campsite, lake or other tourist destination a little smoother.
Leading into the August long weekend, the following projects are being worked on:
Highway 2 near Diefenbaker Bridge leading to various lake destinations including Prince Albert National Park;
Highway 21 near Maple Creek near Cypress Hills;
Highway 26 near Loon Lake;
Highway 42 from Keeler to Eyebrow leading to Douglas and Danielson Provincial Parks;
Highway 55 southeast of Green Lake leading to various lake destinations;
Highway 56 at the Pasqua Lake Access;
Highway 120 near Candle Lake;
Highway 263 near Christopher Lake; and
Highways 322 and 220 leading to Last Mountain Lake.
The highways department reminds all travellers to check the Highway Hotline when heading out as it provides up-to-date information on construction, road closures, the status of ferries, barges and other road activities.