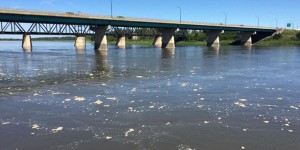 The response to last weeks Husky oil spill continues in Prince Albert, North Battleford and Melfort.
The drinking water advisory for Melfort has been lifted while the temporary pipeline for Prince Albert from the South Saskatchewan River will be completed some time this weekend. The line was initially expected to be completed Friday.
Duane McKay, Commissioner Emergency Management and Fire Services says P.A. got some rain last night which helps with the drinking water supply. "Normally we would not be very happy about a heavy downpour of rain in any city, it generally causes a little bit of a problem. In this particular case, stories of 2-4 inches of rain fell in the city and the storm kind of hung there for a while. So that has actually been a blessing in allowing the retention ponds to recharge."
Prince Albert is also close to drawing water from the Little Red River just north of the city.