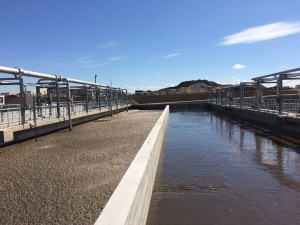 Residents in the city's northwest are dealing with strong smells coming from the new wastewater treatment plant.
The City of Regina and EPCOR are apologizing for the odour, saying it should be gone within in a week.
During construction at the plant, residuals from the treatment process had to be moved into an existing lagoon. And as a result of that movement, the residuals combined with the warm temperatures and high humidity caused the smell.
EPCOR says it is working to mitigate the odour by placing a water cap on the residuals in the lagoon and applying a chemical treatment, and will continue with other treatments. It is also bringing in special equipment to mix the chemicals and residuals to help them settle in the lagoon.
As part of the treatment plant's ongoing construction, the residuals will be transferred to the lagoons for about a week, at which time EPCOR hopes the smell will disperse.
EPCOR would like to thank residents for their patience and assure people there is no risk to the public's health.