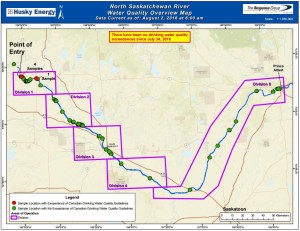 Results have come in from more than 900 water samples taken from the North Saskatchewan River, and some show oil levels too high for Canadian drinking water guidelines.
The water quality report shows the levels are only exceeding those guidelines in five of the samples, which were located near the spill site.
Dr. Paul Nony, with the Centre for Toxicology and Environmental Health says those levels haven't been recorded recently, "We haven't seen any of the exceedances on those Canadian drinking water standards in our sampling program since July 24."
Samples have been taken from more than 60 sites along the river, and a total of 139,000 litres of oil has been recovered.
Water operations in areas affected by the Husky oil spill are relatively stable, according to the government of Saskatchewan. The pipeline between the City of North Battleford and the town of Battleford is now complete, and testing has begun to make it fully operational.
Duane McKay, Commissioner of Emergency Management and Fire Safety says the waterline from the South Saskatchewan River is now pumping water into Prince Albert's water treatment plant.
"That is a major security piece for the City of Prince Albert in terms of water supply, and the Little Red operation is running as well," he said.
Patrick Boyle with the Water Security Agency says there is no definitive timeline on when things will be back to normal, but several government agencies are working as fast as possible before the fall and winter seasons hit Saskatchewan.
The government is waiting on a risk-assessment done by Husky before making any major plans.
Boyle said they need several questions answered before moving forward, "How much of the oil has been accounted for? How much has been captured and where the rest is? We need to look at evaporation, the degradation, what's in the river bed, the sediment. We're going to be looking at what form the oil is in — is it a potential risk to the water-works? How will that respond or react to factors like flooding and spring break-up conditions?"