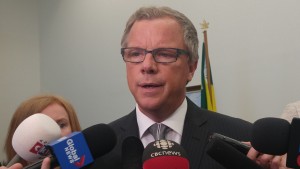 Saskatchewan's premier says drinking water intakes in several communities won't be reopened until more tests are done.
Brad Wall says he knows people in Prince Albert and North Battleford are eager to use their water again, but they'll have to wait.
A Husky Energy pipeline breached last month and spilled up to 250,000 litres of oil and other materials into the North Saskatchewan River.
Wall says some of that oil could settle at the bottom of the river.
(The Canadian Press)