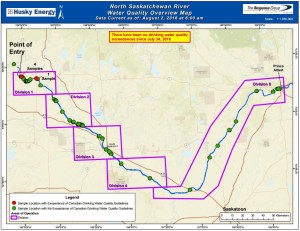 Car washes and laundromats in Prince Albert, Saskatchewan are back in business again.
They shut down when the city closed its water intake following the Husky Energy pipeline spill into the North Saskatchewan River about two weeks ago.
The city says a temporary supply line that's drawing water from the South Saskatchewan River, plus another temporary line to the Little Red River, are producing sufficient water flow.
Residents can also fill their pools, wash their cars or water their grass again on alternating days.