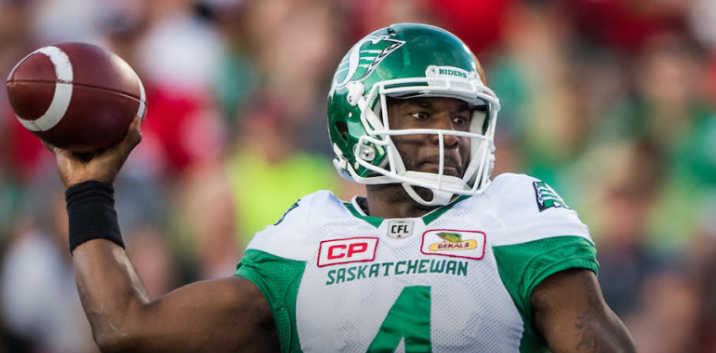 Bo Levi Mitchell threw a touchdown pass to Anthony Parker and Rene Paredes kicked five field goals as the Calgary Stampeders beat the Saskatchewan Roughriders 35-15 on Thursday night.
Mitchell has tossed at least one touchdown pass in 21 straight games to tie Doug Flutie (1996-97) and Anthony Calvillo (2012-13) for the fourth-longest streak in CFL history.
Backup QB Andrew Buckley and running back Jerome Messam also ran for TDs as the Stampeders (4-1-1) won their third in a row while extending their unbeaten streak to five straight.
After missing two games with a sprained left ankle, Riders quarterback Darian Durant returned to the lineup and tossed a 45-yard touchdown pass to Rob Bagg on Saskatchewan's first drive of the game.
The Riders (1-5) were unable to find the end zone after that play and had to settle for three field goals by Johnny Mark, who Saskatchewan signed on Thursday as a last minute fill-in for injured kicker Tyler Crapigna.
After Paredes opened the scoring for the Stamps with a 35-yard field goal, the Riders answered right back as Bagg hauled in a long bomb from Durant to cap off a seven-play, 70-yard drive.
The Riders attempted a two-point convert, but Bagg was unable to catch a short pass from Durant in the end zone.
(The Canadian Press)