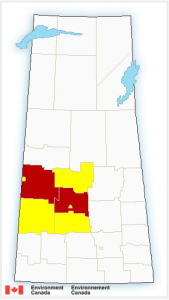 Environment Canada has issued a sever thunderstorm watches and warnings for parts of West and Central Saskatchewan.
The warning is out for the areas of Martensville – Warman – Rosthern – Delisle – Wakaw, The Battlefords – Unity – Maidstone  and St. Walburg
Severe thunderstorm watches have been issued for Lloydminster, Saskatoon, Kindersley, Outlook and Prince Albert.
Environment Canada meteorologists are tracking a line of severe thunderstorms capable of producing strong wind gusts, up to nickel size hail and torrential rain.
This line of severe thunderstorms stretches from the Cut Knife region east towards the Alvena region and is moving very slowly to the north.
Heavy downpours can cause flash floods and water pooling on roads. If visibility is reduced while driving, turn on your lights and maintain a safe following distance. Strong wind gusts can toss loose objects, damage weak buildings, break branches off trees and overturn large vehicles. Intense lightning is likely with any thunderstorm that develops. Remember, severe thunderstorms can produce tornadoes. Watch for possible washouts near rivers, creeks and culverts.