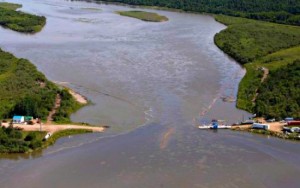 Hydrocarbons have been found in at least 37 water samples taken following the Husky Energy oil pipeline spill into the North Saskatchewan River.
The results are complete from more than 1,400 samples taken after the spill of up to 250,000 litres of oil and another hydrocarbon that was reported on July 21.
The report released by Husky says several hydrocarbons were too high for freshwater aquatic life guidelines.
These results are being compared to the Saskatchewan Environmental Quality Guidelines for aquatic life.
The Husky report says Saskatchewan's guidelines may be more stringent for certain parameters than drinking water guidelines.
Three cities were forced to close their water intakes from the river after the spill and Premier Brad Wall has said more tests are needed before they can reopen.