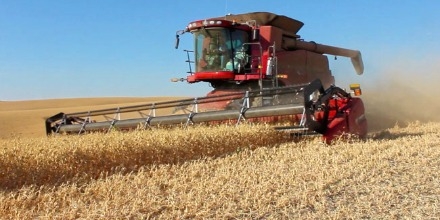 The latest crop report says Saskatchewan farmers made harvest progress despite some rainfall.
35 per-cent of the winter wheat, 25 per-cent of the fall, four per-cent of peas and one per-cent of lentils are combined.
Harvest is most advanced in the southeast, with 82 per-cent of the winter wheat and 16 per-cent of the peas in the bin.
In contrast, 11 per-cent of the winter wheat and 16 per-cent of peas have been harvested in the southwest.
Provincial crops analyst Daphne Cruise says many areas of the province had three inches of rain or more, including Rhein, Langham, Rosetown,Tisdale, Kyle, Jedburgh, Leader and Moose Jaw.
The Kyle area of southwest Saskatchewan has had the highest amount of rain this growing season at 537 millimeters.
Speers in the northwest is the driest at only 108 millimeters since the first of April.
Due to excess moisture, field access will be an issue for some farmers.
Lentils and peas in many areas have suffered from excess moisture.
Diseases and hail have also caused some loss.
Topsoil moisture is rated 26 per-cent surplus, 70 per-cent adequate and four per-cent short.
Haying is continuing with 79 per-cent baled or put into silage and 10 per-cent cut.
Hay yields are reported at 1.7 tons per acre for alfalfa-bromegrass and 1.4 tons for tame and wild hay.
Hay yields are about average.