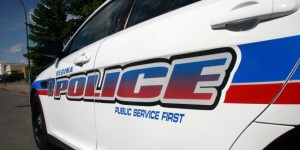 Regina Police Service are currently investigating a robbery at a business on Victoria Avenue.
Police say they were dispatched around 7:30 P.M. on Friday, August 12, to a business in the 600 block of Victoria Avenue.
Police say a lone woman entered the business with a weapon and demanded money.
The woman left the business with an undisclosed amount of money.
No one was injured during the robbery.
No further information has been provided and the investigation is ongoing.
Police are asking anyone with information that could help in this investigation to contact the Regina Police Service
at 306-777-6500 or Crime Stoppers at 1-800-222-8477 (TIPS).