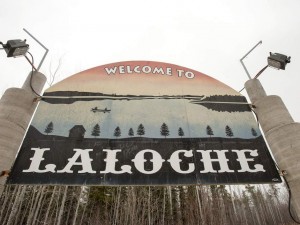 Premier Brad Wall has returned to the Village of La Loche, where a shooting left four people dead in January 2016.
On Tuesday, the premier visited the area with plans to improve vital services in the community, with a focus on health, education, housing and infrastructure.
"Since the terrible events of last January, the people of La Loche have inspired us with their resilience, unity and optimism," Wall said.  "Our government promised to support the community as it recovers and today we continue to meet that commitment.  Working with local leaders, local institutions and the federal government, we are investing in a range of programming that will foster hope and opportunity and enable more residents to lead independent, self-sufficient lives. Together, we are building a stronger La Loche. And that's good for Saskatchewan."
"The community is pleased with the province's response to our tragedy and we are grateful for the work that has been done to date with respect to the priority areas of education, health, housing and infrastructure," Village of La Loche Mayor Kevin Janvier said.  "We look forward to continuing this relationship to ensure that the needs of our residents are being met.  This is just the beginning.  There is still much work ahead for these subcommittees and I wish to encourage all participants to continue on this."
Investments to education
During his visit to La Loche Wall announced a handful of new initiative and investments to education and post secondary education.
Wall traveled with Education Minister Don Morgan and Advanced Education Minister Scott Moe to make the announcements.
Security remains a high priority at the school in the village, where one of the shootings occurred. The Ministry of Education has worked closely with the Northern Lights School Division since the tragic incident, practicing lock-down procedures, and stationing security officers at both schools during school hours and after school. The Northern Lights School Division has a School Resource Officer and a Crime Prevention Officer at both schools. $140,000 went to upgrading the schools' security and phone systems, and Violent Risk Assessment Training will continue to be offered throughout the school division for those who are interested.
Following the shooting, there were concerns over limited counselling services for students and staff at both schools. The La Loche Friendship Centre has since hired four additional counsellors, which brings the total to six.
The Ministry of Education and Northern Lights School Division is developing the 2016-17 school plan, which aims to improve the outcome for students. $20,000 was also provided to replace gym equipment at the high school. The government of Saskatchewan aslo made a surprise funding announcement of $750,000 to redesign the high school where a teacher and teacher's aide were shot. Community members had initially asked for the school to be torn down.
New teacher program focused on Dene heritage
In terms of post-secondary programming, the Ministries of Advanced Education and Education will help to bring in a new Dene Teacher Education Program (DTEP) through the University of Canada. People can take the program right in La Loche through the Northern Lights School Division and Clearwater River Dene Nation.
The program aims to attract and educate new university students from the area, who will hopefully become teachers for the local students. Students will also learn to instruct their students in the Dene language, as part of the K-12 curriculum.
30 students will be able to take the program over a four year period, and will graduate with a Bachelor of Education degree from the University of Regina.
The program started up in July 2016, with a Memorandum of Agreement signed by the First Nations University of Canada, the University of Regina, Clearwater River Dene Nation and the Northern Lights School Division. The overall program cost over the four years is $480,000. The government of Saskatchewan is covering 50 percent of the costs, while the school division and First Nation will cover the remaining costs.
Training program aims to educate new adults
A partnership between the Ministry of Economy, Northlands College and Dumont Technical Institute will bring in a new Adult Basic Education (ABE) and skills training programs in La Loche.
A Tri-Trades program at Dene High School will be offered through Northlands College. It will be available to 15 adult students who will work to attain their Grade 12 credential, while getting skills training in heavy equipment, truck and transport and automotive mechanic trades.
The program is aimed toward 18 to 22 year-olds no longer enrolled in the K-12 school system, and students who complete the training will be equipped to meet the entry level requirements of employers.
20 adults will be able to earn their Grade 12 credential through the Dumont Technical Institute's new ABE 12 program in La Loche.
The programs are set to begin September 2016, with an overall cost of $315,000 for the ABE/Tri-Trades programs and $150,000 for the ABE 12. Both will be fully funded by the government of Saskatchewan.
Upgrades to victim services
As a result of the shooting, changes were made to the Victims Compensation Program, including an increase in the maximum compensation payable for counselling. In February 2016, the amount was changed from $2,000 to $5,000 to provide victims of violence with additional resources to support recovery from the victimization.
La Loche currently has only one full-time Victim Service Coordinator position, but funding for a second full-time position was announced in March 2016, and staffing for the position is underway. The Ministry of Justice also has plans to hire a new half-time Community Justice Coordinator at the La Loche Friendship Centre, with funding being provided in October.
Supporting mental health in the community
La Loche currently has just two mental health counsellors and two addiction workers.
A community mental health nurse started in July to provide counselling services through the Friendship Centre, and also provides 24/7 on call services to the community.
Starting August 17, a suicide prevention worker/community wellness work is also set to start work at the Friendship Centre.
The government provided $13.7-million to Northern Medical Services for 2016-17. NMS provides funding support for co-ordination of monthly visiting psychiatry services in La Loche and other northern communities.
The Keewatin Yatthe budget for 2016-17 supports the Region's plan to provide a 24-hour security service at the La Loche Health Centre, upgrades to IT equipment, and the completion of a mental health and addictions needs assessment.
$480,000 was provided by the Ministry of Health for projects at the La Loche Health Centre. Those projects include additional security, Wi-Fi connectivity, and a new x-ray machine.
Housing development plan being implemented
A three-year plan for housing development has been put together by a committee of village leaders, representatives from provincial and federal ministries and the Saskatchewan Housing Corporation.
The plans include a 14-unit housing project. The Saskatchewan Housing Corporation and Canada Mortgage and Housing Corporation are jointly providing $1.4-million in the form of a forgivable loan towards the construction of 14 new affordable rental units, including six 2-bedroom units, four 3-bedroom units, and four 1-bedroom units in a new subdivision. Construction on the building is set to wrap up by fall 2017.
Building a better highway to Alberta
In February, Premier Wall wrote to Alberta's premier, Rachel Notley to propose the completion of Highway 956, which connects La Loche to Fort McMurray.
Completing the project means 70 kilometres of new road, 61 of which are in Alberta, with the remaining nine in Saskatchewan.
Premier Notley has said she is committed to the project, but it is not on their current three-year road construction plan.
Premier Wall says the government is committed to completing the Saskatchewan portion of the project as soon as Alberta begins their portion.
He says Highway 155 near La Loche will see $1-million in capital improvements this year.
Improved communications and support
As a way to ensure proper supports are in place for the Village of La Loche, Government Relations has completed an Official Community plan. The plan allows continuous communication between federal authorities and provincial and community partners.
As part of these new initiatives is a $3.3-million upgrade for the village's water reservoir, which was announced on July 13 through Government Relations and federal partners.