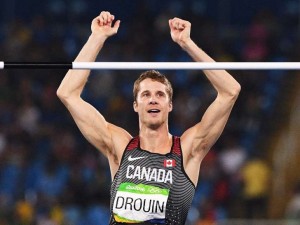 Canada's Derek Drouin won the gold medal in the men's high jump at the Rio Olympics on Tuesday, brimming with confidence as he laid down a near-perfect performance.
Drouin didn't miss a single attempt en route to winning with a season-best jump of two metres 38 centimetres.
The reigning world champion from Corunna, Ont., won medal No. 14 for Canada.
Mutaz Barshim of Qatar won silver at 2.36 and Ukraine's Bohdan Bondarenko claimed bronze at 2.33.
Bondarenko's risky strategy didn't pay off. He passed at 2.29 and 2.36 metres and tried to put pressure on Drouin at 2.38.
But Drouin cleared his first attempt at that height and Bondarenko missed his first two. He then took his last attempt at 2.40 and missed, giving Drouin his second Olympic medal. Drouin won bronze at the 2012 London Games.
After taking a single run at 2.40 and missing, in an attempt to break the Olympic record of 2.39, an emotional Drouin help up the Canadian flag, tearing up as he faced his parents and his sisters in the stands.
Drouin is Canada's first Olympic high jump champion since Duncan McNaughton at the 1932 Los Angeles Games.
It's Canada's third track and field medal in Rio.
Brianne Theisen-Eaton won bronze in the heptathlon, while Andre De Grasse raced to bronze in the 100.
The 26-year-old Drouin, whose bronze was Canada's only track and field medal four years ago in London, was silky smooth all night, clearing
(Canadian Press)