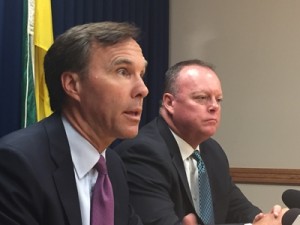 The Canada Pension Plan, the tax structure in the country, a carbon tax, and the general state of the economy were just some of the topics of conversation between Federal and Saskatchewan Finance Minsters Bill Morneau and Kevin Doherty Tuesday, but it was all talk.
Morneau says the meeting was important to hash out goals between both sides.
Infrastructure is one of those common interests. Doherty says pipelines are a big item he would like to see the Federal government support even more going forward.
He notes the prairie provinces need them to get oil to the coast so more markets other than the US become available.
Morneau's main message was helping middle class families. He maintained his government's message of a plan for a strong middle class saying 9 out of 10 families are now receiving funding through the Child Care Benefit.
(CJWW)