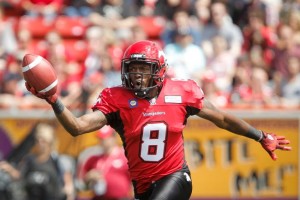 The Saskatchewan Roughriders continue to try and improve their 1-6 football team as they have made a trade with the Calgary Stampeders that sees defensive backs Fred Bennett (pictured)  and Jeff Hecht come to Riderville. 
The six-foot-one, 197-pound Bennett is in his fifth CFL season. He had 166 tackles, 10 interceptions and seven forced fumbles in 73 regular-season games with Calgary.
The five-foot-nine, 205-pound Hecht, an Edmonton native, began his CFL career with Montreal in 2011 but was in his fifth season with Calgary. He accumulated 50 tackles and 37 special-team tackles in 73 regular-season contests with the Stampeders.
In return, the Riders give up the rights to two un-named negotiation list players.