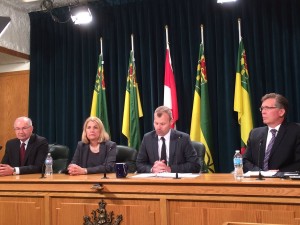 Health Minister Dustin Duncan has announced an advisory panel to review the province's regional health authority structure.
The three person panel will look at the boundaries and ways to improve services within Saskatchewan.
The panel is made up of Tyler Bragg, President and CEO of Pinnacle Financial Services, and former Chairperson of the Cypress Regional Health Authority; Dr. Dennis A. Kendel, CEO of the Phyician Recruitment Agency of Saskatchewan; and Brenda Abrametz, Chairperson of the Prince Albert Parkland Regional Health Authority.
Duncan says they will be looking at successful systems used in other provinces, and expects the number of health regions to decrease from 12.
"Our number one goal needs to be ensuring that the people of Saskatchewan can have confidence in a high preforming health care system that is going to meet their needs in a timely fashion," said Duncan.
Duncan was confident in saying front-line health care workers have nothing to worry about when it comes to staying employed.
"If your day-to-day work is in health care, I would say there is likely a role going forward for an individual like that," said Duncan. But he warned there will likely be fewer positions for senior administrators once the recommendations are made. "That's why we want to get on with this work as quickly as possible, because we want to give some idea of what their futures look like."
The group is set to present their findings to the government in a few months, but the Saskatchewan NDP's Danielle Chartier says it's not enough time to fix the health care system.
"Because of the timeline they've been given, I have concerns there is already a predetermined outcome," said Chartier, who believes the review is needed, but would like to see proper consultation between the advisory panel and Saskatchewan people over a longer period of time.