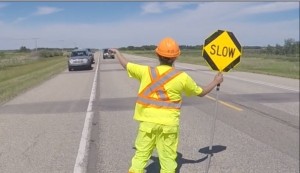 With more than 40 projects currently underway across the province, the Ministry of Highways and Infrastructure is once again reminding drivers to remain patient and obey the black and white posted speed limit in work zones – even when workers are not present.
Seal coating projects are the most common type of work where 60 km/hr signs remain in place without workers present. Seal coating requires up to 24 hours without traffic to set properly. In many cases, the seal coat work zones are long because crews are able to complete the work quickly.
Vehicles travelling at high speeds through a seal coat work zone can ruin the seal. The slower speed also protects vehicles from unnecessary damage caused by loose stones on the road. After the road has cured, crews return to sweep the excess gravel off the road and the speed limit is returned to normal.
Seal coating projects currently underway include:
Highway 2 near Christopher Lake; and
Highway 7 at Zealandia.
Seal coating projects completed this season include:
Highway 1 at Swift Current;
Highway 1 at Piapot;
Highway 1 near Maple Creek;
Highway 2 south of the Highway 916 junction;
Highway 3 near Prairie River;
Highway 3 near Frenchman Butte;
Highway 6 near Southey; and
Highway 55 at Love.
Situations where speeds are reduced for safety reasons without workers present include: narrow roads; roads that have been reduced to one lane; or potential road hazards like loose stones, a sharp drop off the pavement, or barriers.